AMTECH Flux NC-559-V2-TF
Regular price
$36.00 USD
Sale price
$28.00 USD
Unit price
per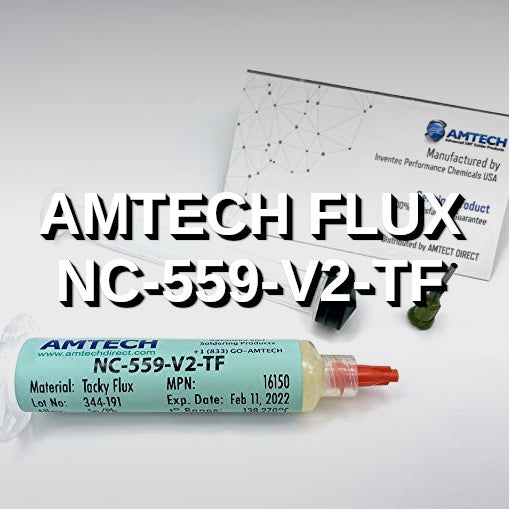 Including plunger, metal blunt dispensing tip, and "Genuine Product" AMTECH soldering profiles card

This is a real deal made and packaged in the USA, we are wholesalers for AMTECH DIRECT.

ROL0 flux classification - rosin-based, low activity no-clean tacky solder flux for professional/industrial use. Highly praised by advanced reworks community for mighty long-lasting action and easy cleaning - clear residue evaporates with hot air and doesn't short components. Applicable for a syringe, stencil printing, rework, BGA sphere attachment, and reballing using standard tin/lead alloys (won't solder lead-free metals). Halide-free (<0.05%). Contains UV-tracer for fast detection of splatter.

Optimal viscosity - 40-52 (Malcom @ 10 RPM/25°C (x103mPa/s)). High temperature compatible (up to 300°C/600°F). Surface insulation resistant. No copper mirror breakthrough. Low electrochemical migration (< 1-decade drop). May contain up to 7% w/w of ethoxylated 4-nonylphenol (NPE can be harmful to aquatic organisms - dispose of responsibly avoiding water drains)

The activated residue is clear and non-corrosive - can be left on board for multiple SMT assemblies (manufacturer recommends cleaning all flux residues at all times to avoid board contamination or voltage leakage on circuits with high impedance, also non-activated residue may absorb moisture from the air and subsequently cause corrosion). Wide process window - excellent performance on Flip Chip bumping and Chip Scale Packaging sites.

Syringes are intended for industrial dispensing machines and use a piston stopper instead of a plunger - do not remove the piston as it delivers the best seal to prevent contact with air. Dispensing Kit is a third-party add-on, not supplied by AMTECH. A plunger is to push on the piston and not necessarily snuggly fitting AMTECH syringe, a plunger can be loose. Dispensing tip gauge (size) will be within 14-23 Ga and may differ from the pictured.